4LegalLeads.com Makes the Inc. 5000 by Helping Law Firms Grow During the Pandemic
2020 was an unexpected year of success as attorneys adopted legal leads as a marketing strategy.
4LegalLeads.com is celebrating its second year of inclusion on the Inc. 5000 list for 2021 by placing the spotlight on the attorneys who use its service to find new clients online.
"After 20 years spent in online lead generation for the legal industry, 2020 was truly the most rewarding time I've spent in the business," said Vince Wingerter, CEO and Founder of 4LegalLeads.com, which is a Premium Solution Provider for the American Bar Association's Law Practice Division.
"During the pandemic, we've seen incredible growth in law firms across the nation. It's really a tribute to their willingness to pivot and adapt to online strategies for growth as well as their drive to overcome the obstacles the industry faced." Wingerter said.
And of course, the obstacles were many. Small to mid-sized law firms have been slow to adopt online lead generation strategies over the years, tending to rely on more traditional methods of marketing. In 2020, the lack of ability to consult and connect with potential clients in person forced attorneys to adopt new strategies.
However, ABA's 2020 TechReport on Websites and Marketing showed that only 33% of firms with 10-49 lawyers had internal marketing staff. Most firms are short on marketing resources, and even if they have them in place, online advertising and lead generation is a highly complex skill that most firms don't have the time or bandwidth to master.
Legal leads solve all of these issues for law firms. They transform the online marketing experience for law firms and make it easier to succeed. Lead providers have the online advertising expertise needed to make sure that potential clients in a law firm's region can find their practice. As that person searches for an attorney, the provider routes them to the law firm as a "legal lead" either online or live on the phone.
As law firms nationwide outsourced the task of making connections online to the experts, they discovered a wide range of benefits.
The immediate goal was met as they filled their sales pipelines with leads.
However, law firms also save a tremendous amount of money on overhead by using legal lead providers. They don't have to build an internal team to manage all of the advertising and systems needed to source the leads. They simply pay for the leads they receive, which costs a fraction of the budget needed to do the work on their own.
Law firms also avoid wasting money on underperforming ads. It's far too easy to make costly mistakes in online advertising, and the expertise lead providers bring to the table is invaluable on that front.
As law firms see growth from legal lead generation, they discover another major benefit, the ability to scale their efforts quickly. Nationwide lead providers like 4LegalLeads.com have the massive infrastructure that allows law firms to scale instantly by simply raising their budgets.
Most notably, during the pandemic, law firms deployed two very powerful growth strategies using legal leads.
First, law firms expanded their areas of practice. Legal lead providers offer leads in multiple categories of law. This empowers attorneys to add new areas of practice to their firms. And because they only pay-per-lead, they were able to test these expansions carefully before scaling their efforts.
Second, law firms seized the opportunity to compete in new markets. Prior to COVID-19, many attorneys felt limited regionally by how far a client might drive to meet face-to-face. As video conferencing became the norm, attorneys took the opportunity to source legal leads from new counties and states.
"At the end of the day, it's both a combination of the advantages legal leads bring to the table and the creativity attorneys have shown in using them that's fueled growth in a year when, outwardly, the legal industry seemed to slow down." Wingerter said.
That growth was of course passed on to 4LegalLeads.com and fueled its aforementioned inclusion in the Inc. 5000. 4LegalLeads saw a growth rate of 186% over the course of the past three years.
4LegalLeads.com also leads the legal lead generation industry with their commitment to providing Exclusive, Real-Time Legal Leads and Attorney-First policies such as a contract-free experience and a guaranteed, pro-rated account refund. They have established a business model where attorneys can try using legal leads in a safe environment where they are free to leave at any time.
"It's always been important to us that we bear the burden of earning people's time, money, and trust. It's incumbent on us to prove the quality of our service to the attorneys we serve." Says Wingerter.
Attorneys wanting to create an account with 4LegalLeads can do so at 4LegalLeads.com/lawyers or by calling (866) 685-0070.
About 4LegalLeads.com
4LegalLeads.com is one of the most expert, experienced legal lead providers in the industry. The company has been helping attorneys grow their law firms with quality leads since the earliest days of online lead generation in 2001. 4LegalLeads provides Exclusive, Real-Time Live Calls and Web Leads for more than 40 categories of law that are quality-filtered and backed by the latest innovations in technology for connecting those seeking legal help to law firms.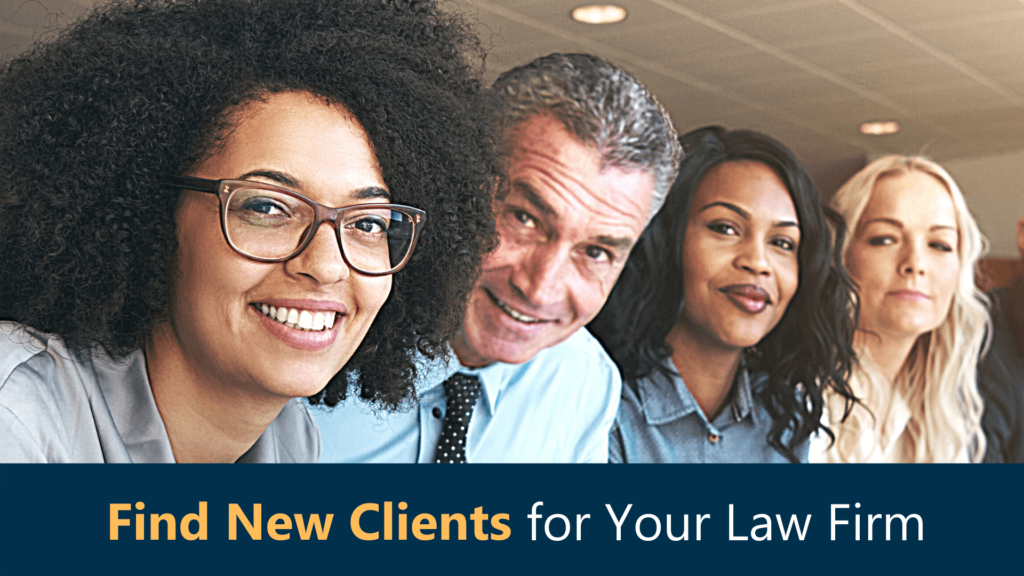 Law firms who need to Find New Clients are facing a big problem.
Potential clients are searching online for an attorney, and it's increasingly difficult for law firms to stand out in search results.
Here's how Legal Leads help.
1) We use 20 years of online advertising expertise to make sure potential clients in your region can find your law firm. As they search for an attorney, we route them to you as a Legal Lead.
2) Legal Leads are EXCLUSIVE and delivered in REAL-TIME through the web or LIVE on the phone. This means you can respond to leads right in the moment they reach out for help. It's the best time to win them as a new client.
You only pay when you receive a lead. You can stop at any time, and you have an excellent customer support team to help you succeed!
CREATE YOUR ACCOUNT at 4legalleads.com/lawyers. It only takes a moment. Then, we'll be in touch to help you complete your setup so you can start finding new clients!