Demand Generation vs. Lead Generation
B2B marketers may often confuse "demand generation" and "lead generation." Demand generation creates interest for a business, while lead generation turns that interest into viable leads. This article will clarify the differences between demand generation and lead generation to help B2B marketers create consistent, fruitful leads and flourishing marketing strategies.
What Is Demand Generation?
The first thing a business should focus on when trying to generate leads is demand generation, the process of creating interest for a business or idea through blog posts, press releases, podcasts, and social media posts. Demand generation creates initial interest by teaching the consumer why they should care about the business.
A demand generation strategy is free for the consumer, like subscribing to the company's YouTube channel. The consumer can "like" a social media post or share a podcast that they find interesting, generating more interest in the company.
If B2B marketing is a pyramid, demand marketing is the base. Marketing strategies need a solid foundation to build on. Once your demand marketing strategies create enough interest, marketers can move on to lead generation.
What Is Lead Generation?
While demand generation lies at the bottom of the marketing pyramid, or lead funnel, lead generation exists at the very top. Lead generation takes the interest created by demand generation and converts it into client generation and client leads. Some examples of lead generation include:
Gated content;
Coupons and discounts;
Free trials;
Referral rewards systems.
However, without creating initial interest in a company through demand generation, lead generation can fall flat. Using demand generation and lead generation correctly can create both new interest in and leads for a growing business.
Differences Between Demand Gen and Lead Gen
Demand generation begins a campaign, and lead generation ends a campaign. They are intertwined but distinctly different. When analyzing demand generation vs. lead generation, each contributes unique benefits to a marketing campaign.
In demand generation marketing, the resources target a wide-but-relevant audience with free materials and free content. The content will explain to the audience why your product or resource is important and show that your business has valuable expertise on a given topic. Specifically, a demand generation campaign makes the company's name more reputable and noticeable. Demand generation campaigns aren't looking for customer information or offering paid services and free trials.
On the other hand, a lead generation campaign does everything that the demand generation campaign avoids; it seeks to gain personal information from potential customers and offers limited-time services for those who sign up within the window. Lead gen campaigns target the specific audience who was interested in the initial demand gen campaign.
Similarities Between Demand Gen and Lead Gen
Demand generation and lead generation are two parts of the same lead funnel — the purpose of which is to get customers and clients interested in a business's products.
When comparing them, we'll find that, technically, lead generation is demand generation, but demand generation is not lead generation. Demand generation can refer to any type of marketing that gets the consumer to notice and trust the brand, including lead generation. Lead generation is a more active and advanced form of demand generation. Even when referring to demand gen and lead gen as two entirely separate campaigns, they will still overlap because both campaigns use similar tactics to achieve a goal.
To have an effective demand generation campaign, marketers must create compelling, high-quality content, that will generate hype around the business if targeted to the right audience. Similarly, lead generation must use equally compelling and outstanding content to convince the consumer that they need a product or service. Many demand gen and lead gen campaigns overlap in this way and use the same content to further either campaign.
Demand Generation Tools and Strategies
Launching a successful marketing campaign leads to more interest in the company and primes your audience for your lead generation campaign. Here are four tools and strategies to transform your demand generation marketing.
Lead Generation Companies
A quality lead generation company will collect consumer information and sell that information to businesses looking for new customer leads. In most cases, lead generation companies create a website that gathers information through a form or questionnaire. They also offer marketing campaigns targeting a specific group or audience; the lead company will then identify which customers display buying intent.
Lead generation companies are a valuable resource to small and large companies alike looking to launch a successful demand generation campaign. They streamline the process and guarantee that the business will see results from the campaign.
Targeted Ads
Businesses can use targeted ads to generate age-specific, gender-specific, or location-specific leads. Targeted ads help consolidate your leads to those who are more likely to buy the product. One example of this is a campaign that targets law firm ads to an adult in their 30s instead of targeting a high school teenager.
Geo-targeted ads are helpful to businesses who offer their services to a defined area or region. These ads expose relevant consumers to your products by tracking their MAC (Media Access Control) address. Consumers automatically opt-in to this type of advertising by purchasing and activating a Wi-Fi device.
Press Releases
Businesses use press releases to generate publicity and turn consumer eyes towards the business. Some assume that press releases are meant for journalists alone; however, with the right tools, businesses can turn press releases into valuable demand generation opportunities.
To use a press release as part of a successful campaign, post the well-written press release on social media and integrate it into your email newsletter. The press release can find a home on landing pages and even rank on google if optimized correctly.
Social Media
Many consumers spend considerable time on social media, and often expect the companies they follow to have a strong social media presence. Businesses can interact with customers and clients through social media posts and stories, encouraging consumers to care about the business. Using social media as part of a demand generation campaign is one of the best ways to bring forward brand awareness.
However, unhappy consumers and trolls can leave negative comments on posts, possibly discouraging potential customers from purchasing the product. If the business chooses to disable social media comments, the business will receive no consumer feedback and could have fewer engagement metrics. Companies should consider disabling the comments on social media posts only when the majority of comments are unhelpful or harmful.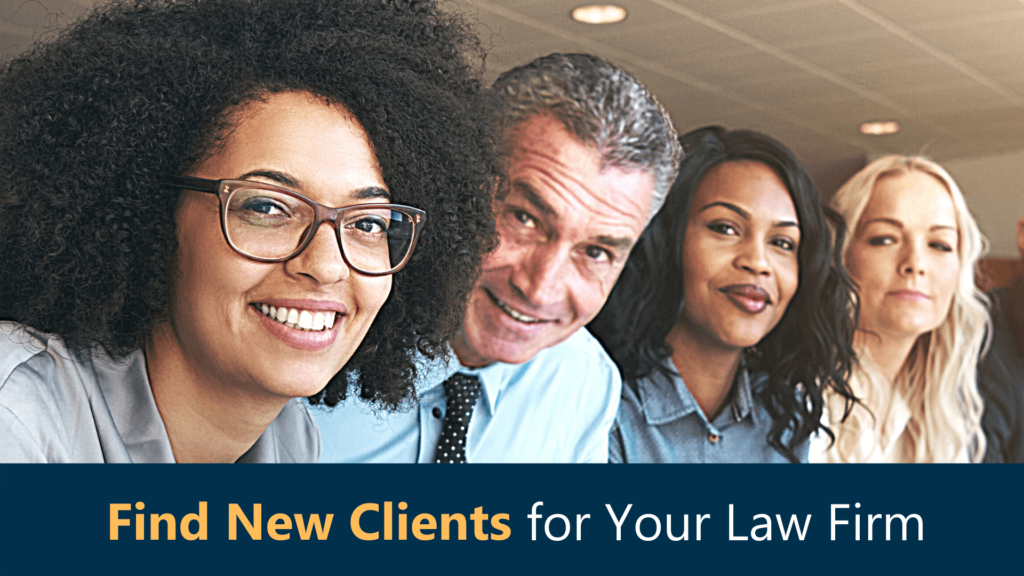 Law firms who need to Find New Clients are facing a big problem.
Potential clients are searching online for an attorney, and it's increasingly difficult for law firms to stand out in search results.
Here's how Legal Leads help.
1) We use 20 years of online advertising expertise to make sure potential clients in your region can find your law firm. As they search for an attorney, we route them to you as a Legal Lead.
2) Legal Leads are EXCLUSIVE and delivered in REAL-TIME through the web or LIVE on the phone. This means you can respond to leads right in the moment they reach out for help. It's the best time to win them as a new client.
You only pay when you receive a lead. You can stop at any time, and you have an excellent customer support team to help you succeed!
CREATE YOUR ACCOUNT at 4legalleads.com/lawyers. It only takes a moment. Then, we'll be in touch to help you complete your setup so you can start finding new clients!