The Value of Customer Feedback for Your Business
As a small business owner, it can be challenging to grow your customer base. Without a large budget for advertising, companies have to be creative in how they approach marketing strategy.
One potential way to grow your business is through the customers you already have. Improved customer retention begins with customer satisfaction, which can make all the difference in whether your business is successful.
In business, it's near impossible to avoid bad reviews in the internet age. It can lead some business owners to debate the merits of using online platforms at all. Some go as far as to consider whether to disable comments on social media accounts.
There's no need for rash decisions because there is a silver lining here that gives businesses an opportunity to grow from even their most negative reviews. When you have constant feedback from your customers, you can better understand what your customers need and model your business plan around that.
When you take the time to develop smart, strategic initiatives that will keep your customers at the forefront of your business, success is sure to follow.
Why Is Feedback Important?
There is no doubt that consumer feedback is an integral part of a business's success. Pew Research reports that 82% of consumers read customer reviews about a product before they buy it.
These reviews matter, too. Marketing firm Moz found that while one review could cost you up to 22% of customers, four poor articles could lose you up to 70% of potential customers.
Reviews are an invaluable tool because they improve the customer experience in so many ways.
Improves Products and Services
No opinion matters more than the customer who will be purchasing and using your product. That's why it is so important to go directly to the customer for product feedback and reviews.
Customer feedback presents an excellent opportunity for companies to learn from their mistakes and update their practices accordingly. This could mean everything from a better instruction manual to an all-new product design. Either way, your company's response to feedback lets customers know that they are being heard and that their voice matters.
Creates a Better Customer Experience
By inviting customer feedback, you are also managing client expectations and showing them that their opinions are always welcome, so they will be more likely to share their thoughts again in the future. This can also be your opportunity to learn how you can better serve and satisfy those who provide patronage to your business.
A positive experience from the first contact is essential if you are trying to convert inbound leads to clients and customers — a negative first impression can mean a missed opportunity to really demonstrate your strengths. Taking feedback along the entire customer journey will help you understand what you need to work on, from onboarding new clients to improving retention.
Increases Customer Retention
Digital marketing firm Corra found that most reviews are motivated by a consumer's desire for a better experience. When a customer leaves a poor review, it is often an issue you can easily resolve with a simple phone call or message. Corra's study showed that customers just want to be heard, and their reviews ultimately reflect that need. Only 4% of customers will actually reach out to you directly, while 96% will instead use a platform like Yelp or Google Reviews to air their grievances.
As a business owner, this means that you must be proactive in your customer service. Following up with customers directly after a sale, asking for client feedback, and offering ongoing assistance are all ways to respectfully reach out to your customer base in a helpful manner.
Generates Positive Word of Mouth
When you have a positive experience at a business, you want to share that feedback with your friends and family so that they can share that experience, too. If they have a positive experience, too, they will share that news with their friends and family. Before you know it, you have grown an entirely new customer base from just one good customer experience.
Word of mouth is the reason why sites like Yelp are so popular and why so many companies offer incentives such as coupons or rewards to customers who leave a product or service review.
Enables Strategic Decision Making
When feedback is gathered and organized correctly, it can be analyzed to create better company initiatives and goals in the future. Organizing your data allows you to interpret it clearly and implement changes in a way that improves the company as a whole.
Customer feedback also gives companies a better idea of their standing through a consumer's eyes. It enables you to address several key aspects of operations, including things like product design, accessibility, affordability, and reliability — all crucial aspects of any business. Customers can also advise companies on how to spend marketing and advertising dollars, and customer actions may even inform what you spend on product packaging and labor, based on what is well received and what is not.
Customer Feedback Tools
There are many ways to collect customer feedback, but there are three specific tools that provide consistent results: customer testimonials, surveys, and social media. With these tools, you can improve customer interaction and build more effective client relationships. Customer data also gives companies a rare and priceless opportunity to identify upcoming trends through the consumer's eyes.
Businesses may choose to use customer feedback tools for targeted feedback. Customer feedback can be developed to hone in on specific aspects or departments of your business, such as your website's accessibility or customer support response times for your customer service or sales reps. The information you gather could be invaluable to your business.
Testimonials
Unlike other types of feedback that are held more privately, customer testimonials are written for public view. Sharing your customers' positive reviews and experiences may help new customers feel more confident in trying your product or service. Customer testimonials add a level of legitimacy to your online presence, providing glowing reviews that you can share with an entirely new customer base.
When you receive positive reviews, be sure to share them on your website so visiting traffic can see. This could be the deciding factor in a new purchase, gaining you a new customer and a whole new audience.
Customer Surveys
Customer feedback surveys are crucial ways to obtain information from your audience — once you decide what to ask. One of the biggest challenges of a feedback survey is finding the right information to ask, but there are a ton of great programs available that offer versatile options for your surveys.
To help you decide, consider what kind of survey is best for your clientele. Open-ended questions give customers an opportunity to really expand upon a topic but may scare off some customers who see it as too much work. A multiple-choice or slider survey can be great for rankings and ratings, but you miss the opportunity to hear from customers on topics you didn't include.
Social Media
Social media is a way to remain current with trends while receiving candid feedback from your consumers. Customers don't tend to mince words online, but this can be a good thing because it allows you to identify the problems within your business.
Social media provides a golden opportunity for one-on-one interaction with customers you may not otherwise have the chance to meet. Interacting directly with the customers who keep your business going can be an eye-opening experience for many business owners.
Social media presents a lucrative opportunity for marketing, offering businesses free advertising to a huge audience, all at the touch of a button. Hashtags make it easy for others to follow news involving your company and also keep you in the loop with important industry updates and events.
At 4LegalLeads, we're committed to helping legal professionals grow their businesses. Leads are just one part of a successful legal business strategy, so our blog covers a wide range of topics.
We believe you deserve both quality legal leads and the knowledge you need to make the most of your investment. Explore our blog further to find the tools that help you succeed!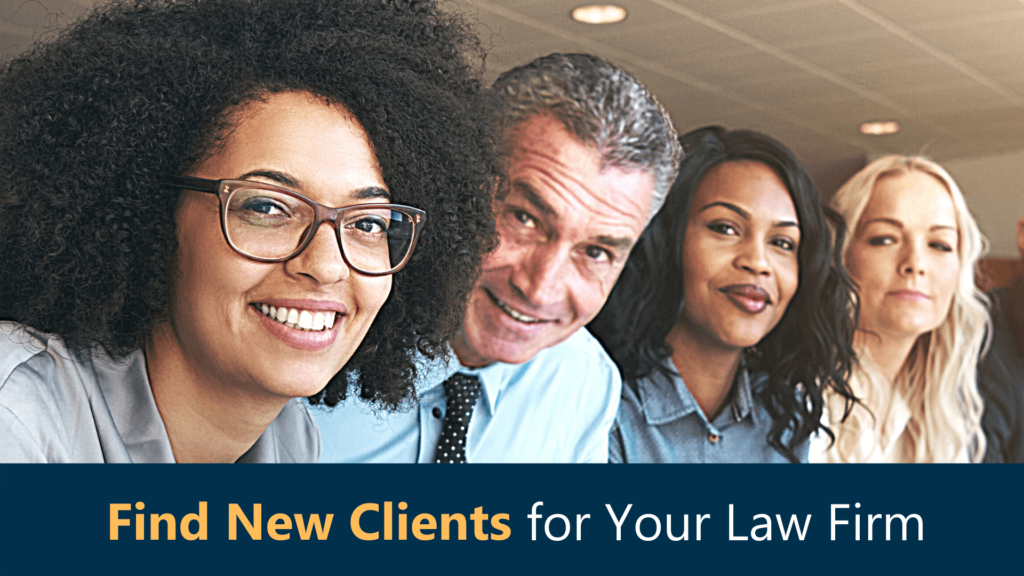 Law firms who need to Find New Clients are facing a big problem.
While nearly all potential clients are now searching online for an attorney, it's become increasingly difficult for law firms to stand out in search results.
Here's how Legal Leads help.
1) We use 20 years of online advertising expertise to make sure potential clients in your region can find your law firm. As they search for an attorney, we route them to you as a Legal Lead.
2) Legal Leads are EXCLUSIVE and delivered in REAL-TIME through the web or LIVE on the phone. This means you can respond to leads right in the moment they reach out for help. It's the best time to win them as a new client.
You only pay when you receive a lead. You can stop at any time, and you have an excellent customer support team to help you succeed!
CREATE YOUR ACCOUNT at 4legalleads.com/lawyers. It only takes a moment. Then, we'll be in touch to help you complete your setup so you can start finding new clients!