Can Small Businesses Survive Gentrification?
Gentrification is a complex process that can bring both positive and negative changes to a neighborhood — and to a business. Because gentrification impacts each community differently, it's impossible to predict if it will end up helping or harming your organization. To protect your business, it's crucial to understand why gentrification may have these impacts, as well as the steps you can take to properly prepare for and respond to it.
What Is Gentrification?
Gentrification refers to an urban development trend wherein affluent and middle-class residents and businesses move into traditionally low-income areas, changing the character and demographic makeup of the neighborhood. Gentrification almost exclusively occurs in large cities and urban environments; it often does not happen across an entire city, but rather in smaller pockets or neighborhoods. While gentrification works to economically revitalize struggling areas, it can also transform the nature of a neighborhood or city.
The boroughs of New York City are a prime example of gentrification. Several decades ago, Brooklyn experienced high rates of crime, pollution, and economic decline. This propelled wealthy residents to move elsewhere, leaving a community of low-income individuals behind. As New York became a safer and more desirable place to live, wealthier residents began to return to the city, eventually moving from the expensive heart of Manhattan to less costly boroughs. Over time, this increased the cost of living in Brooklyn, making it one of the most gentrified places in New York City. Experts have even observed the process of super-gentrification in some Brooklyn neighborhoods, including Brooklyn Heights and Park Slope, due to ultra-rich, high-income residents moving in.
In recent years, gentrification has intensified in many American cities, making it a highly controversial topic as inbound residents clash with those who may no longer be able to afford to remain in their old neighborhoods. As more cities feel the effects of gentrification, it becomes even more polarizing. Despite this shift, it's difficult to qualify gentrification as wholly good or bad, as it can have both positive and negative impacts on cities, their economies, and their residents.
Pros of Gentrification
Many of gentrification's purported advantages relate to its positive impacts on local economies, though it is also thought to have other benefits, including:
Creating new job opportunities;
Crime reduction;
More housing options;
New activities, events, and recreation opportunities;
Increased property value;
Cleaner, more aesthetically pleasing neighborhoods.
Cons of Gentrification
On the other hand, gentrification is believed to have many negative effects on communities and residents. Some major areas of concern include:
Displacement of long-term, low-income residents;
More expensive housing costs;
Increased property taxes;
Larger wealth gap;
Increased cost of local goods and services;
More community conflict;
High resident and business turnover;
Loss of small businesses;
Different neighborhood culture.
It's unclear if the benefits of gentrification outweigh its drawbacks. Despite its potentially positive economic effects, many critics of gentrification are concerned about its social impacts — particularly the displacement of long-term, low-income residents. Some experts argue that neighborhoods can be gentrified without displacing the residents who built that community. Other research points to the benefits it can have on original residents, but either way, gentrification fundamentally and irrevocably changes the landscape and nature of these communities.
How Gentrification Affects Small Businesses
Similar to its impacts on residents, gentrification can have both positive and negative effects on small businesses. However, the effects of gentrification on businesses have not been studied as thoroughly as its effects on community residents. One study exploring the impacts of gentrification on small businesses reported mixed results, claiming that "gentrification is associated with both business retention and disruption." The study also reports that businesses are displaced at similar rates in gentrified and ungentrified neighborhoods. Unfortunately, when small businesses are displaced, they are often replaced by large chains, rather than another small business.
Some believe that small businesses and gentrification have an almost reciprocal relationship; gentrification may change the commercial landscape of an area, but small businesses can also help or hinder that process. In an analysis of business owners' opinions on gentrification in Chicago's Wicker Park, researchers posit that small business owners' understanding of and response to gentrification is dependent on their own economic security. Assuming they are beneficial, small business owners only support aesthetic changes to the neighborhood if they are already financially stable. Business owners appear to oppose gentrification when it disrupts neighborhood aesthetics, but largely support it when it boosts financial stability.
There is no single way that gentrification affects small businesses, or a unified opinion that all business owners share about gentrification. Each business, neighborhood, and city is unique and will have a similarly unique relationship with gentrification. Even if they contribute to it, some business owners may resist gentrification, believing they have a social responsibility  to preserve the original integrity of their neighborhood. Others may believe it's the key to improving their community. Ultimately, gentrification will help some small businesses thrive, and allow others to suffer and fail.
How Small Businesses Can Survive Gentrification
For some businesses, gentrification presents an opportunity to thrive; for others, it's a threat. It all depends on what type of business you run and how gentrification is impacting your organization. However, gentrification isn't an inherently negative process, and it doesn't necessarily have to harm your business. If you go about it the right way, there are several things you can do to help your business survive — and even thrive — during the process of gentrification:
Retain Your Originality and Unique Selling Proposition
Gentrification may change your neighborhood and its demographics, but that doesn't mean it will change your business. Don't sacrifice your originality in an attempt to appeal to new customers, as it's a major competitive advantage that can serve you well during this time of transition.
Maintaining the originality of your business will likely serve you well as your neighborhood begins or continues to gentrify. Your unique flavor is authentic to the area, which is likely what attracted new residents and tourists to your community in the first place. Lean into your existing brand and identity to retain your current customers and attract wealthier, newer customers to your business.
While you shouldn't conform to new neighborhood aesthetics, you can still make smaller changes to appeal to new residents. For instance, try offering a discount to first-time customers in an effort to drum up more business. This allows you to showcase the quality and unique value of your business and attract new regulars without alienating your current clientele.
Implement Online Marketing
It's important to advertise and market your business during gentrification, even if your establishment is already popular or well-known. Nowadays, you must have an online presence to stay relevant and visible, which means you have to invest in online marketing for your business.
All types of small businesses, from restaurants to law firms and everything in between, can benefit from online lead generation. Depending on your needs, going digital with your marketing can be used to supplement or replace traditional forms of advertising; it simply depends on what works well for you. As an added bonus, digital marketing may help you reach new residents or tourists who are researching and learning about your area.
At a minimum, you should:
Have a website;
Create a Google My Business profile;
Make sure you're listed on any local directories or websites;
Create a profile on popular online review sites, such as Yelp.
You can also implement more intensive online marketing strategies, such as search engine optimization or email marketing, but the above list encompasses the most important marketing channels that are essential to address. As an added bonus, they are fairly affordable strategies, allowing you to see the biggest benefit for your business with minimal risk.
Control Your Costs
Increasing operational costs is likely the biggest challenge your business will face during gentrification. If you rent out a commercial space, your rent will almost certainly increase. If you own the property or land, you may encounter higher property taxes. You could also see utility bills or supply costs increase, as the organizations your business relies on attempt to respond to gentrification themselves.
Control these costs as much as possible. If you can, look for ways to decrease them. More often, you'll need to prevent expenses from increasing any further. For instance, if you need to renew your commercial lease, try to make a multi-year commitment that locks you in at the same rate for the duration of your contract. You may have to pay more in rent each month than you did previously, but this will offer some protection against further increases.
Set Appropriate Pricing
That being said, be careful about raising prices to offset increasing costs. As the cost of living in your area increases, it's normal and even expected to make some changes to your pricing. Keep your prices appropriate for your products and only raise them as much as necessary.
You can't overestimate your business's market power , especially during such large changes in your community. If you increase your prices too dramatically, you may lose your regular customers and discourage new customers from patronizing your establishment. Your competitors are likely increasing their own prices, and keeping yours low may incentivize customers to come to your business instead.
Additionally, keeping prices relatively low helps your business retain its originality, unique value, and authenticity. If affordability has long been part of your brand, significantly increasing your prices may directly harm your authenticity and identity. In that case, price increases may end up doing more financial harm than good.
Remain Involved In the Community
Continue to be an active participant in your neighborhood. Your business is a part of this community, no matter how much it changes. Large corporations and new businesses don't have the same history that you do and can't make the same claims to community partnership that you can. In other words, this is a simple way you can distinguish your organization and, once again, highlight your authenticity and unique value.
To get involved, you can:
Volunteer for local charities or nonprofit organizations;
Host community events at your business;
Find sponsorship opportunities, such as with local sports teams or schools;
Participate in local meetings or political discussions;
Offer a scholarship;
Join in community events, festivals, and gatherings.
By getting involved and participating, you can show original residents and existing customers that you care about this community as much as they do. It also provides an opportunity to advertise your business to new and original residents alike.
Emphasize Local
Finally, emphasize that you are a local business. Many consumers trust small businesses more than large corporations and would prefer to support your organization instead of a large chain.
Additionally, you can partner with other local businesses to show off the unique character of your community. Existing residents will appreciate the recognition and connections, and new residents will get a better understanding of the neighborhood. For instance, if you own a restaurant, you can showcase art pieces from local artisans or have local musicians perform at your establishment. You can work with other local businesses and support each other, helping other members of your community survive the process of gentrification.
Gentrification will bring change to your community, but that change doesn't have to harm your business. By taking pride in your roots, you can overcome the challenges gentrification brings and help your organization flourish.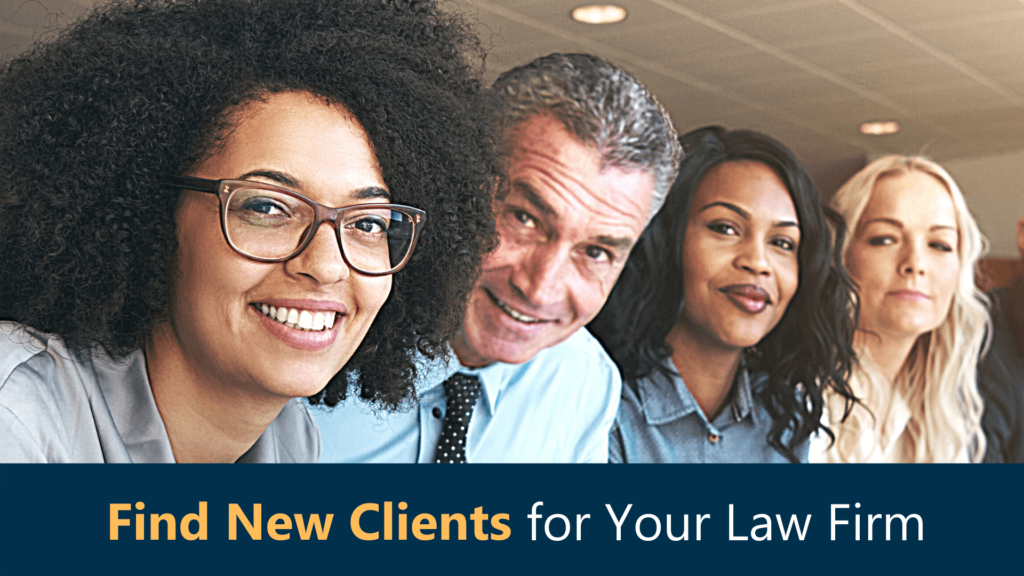 Law firms who need to Find New Clients are facing a big problem.
Potential clients are searching online for an attorney, and it's increasingly difficult for law firms to stand out in search results.
Here's how Legal Leads help.
1) We use 20 years of online advertising expertise to make sure potential clients in your region can find your law firm. As they search for an attorney, we route them to you as a Legal Lead.
2) Legal Leads are EXCLUSIVE and delivered in REAL-TIME through the web or LIVE on the phone. This means you can respond to leads right in the moment they reach out for help. It's the best time to win them as a new client.
You only pay when you receive a lead. You can stop at any time, and you have an excellent customer support team to help you succeed!
CREATE YOUR ACCOUNT at 4legalleads.com/lawyers. It only takes a moment. Then, we'll be in touch to help you complete your setup so you can start finding new clients!