Table of Contents
Resource Guide for Minorities Studying Law
1) Financial Resources and Help Paying for Law School
2) Minority Law Student Associations and Organizations
3) Diversity Resources for Legal Professionals
4) Resources for Starting a Law Firm
Resource Guide for Minorities Studying Law
Students who are part of a minority group may fall into any number of categories based on race, ethnicity, or other demographic features, and tend to have less representation within college and university. Because of this, it can be difficult for individuals to feel like they have an equal opportunity to succeed
Lack of diverse representation is an issue that goes beyond schools; it is an issue that takes over the working world as well — more specifically, legal professions.
Statistics provided by the American Bar Association when surveying the demographics of resident active attorneys in 2020 show:
63% male;
37 % female;
86 % caucasian;
5 % African-American;
5 % Hispanic;
2 % Asian;
2 % Multiracial;
0 % Hawaiin/Pacific Islander;
0 % Native American.
From the statistics provided, it is clear that there is a lack of diverse representation in the legal field. Why is this a problem? Because it is part of a business's social responsibility to have equal representation within their company.
More and more underrepresented student populations such as people of color, women, and those in the LGBTQ+ community, are applying for law school not only to better their own futures, but embody the representation their communities need.
Listed below are resources for minority law school students.
Financial Resources and Help Paying for Law School
Tuition and fees, books, technology, room and board, and transportation are just a few of the costs that law school students should expect to pay. The average cost of attendance for the top 10 law schools during the 2019-2020 school year was a median total of $67,275. Student loans and grants alone may not be enough to cover the costs, and not everyone is able to pay that amount out-of-pocket. Luckily, there are scholarships and other programs that diverse law students can apply for to help cover the costs associated with law school.
Pre-Law Programs for Diverse Applicants
Pre-law is an opportunity to step foot into the legal field before entering law school. Here are resources available to minority pre-law students that need financial assistance with school:
Diversity Scholarships for Law Students
Let's take a look at some of the scholarships available for minority students:
Other Higher Education Scholarships and Opportunities for Diverse Applicants
Here are a few more scholarships diverse students in higher education can apply for to help cover the costs of their studies:
The Gates Scholarship: This scholarship is available to outstanding, minority, high school seniors that come from low-income households. Each year, 300 students are selected to receive funding for the full cost of attendance that is not already covered by any other type of financial aid. To apply for the Gates scholarship, students must meet the eligibility requirements — they must be a high school senior, pell-eligible, a U.S. citizen, and in good academic standing.
United Negro College Fund (UNCF): The UNFC has helped over 500,000 students with their college fund since its founding in 1944. They offer dozens of scholarships to individuals who qualify. To find a scholarship, prospecting applicants must search the UNCF scholarship page — it is encouraged to apply for any scholarship that you may be eligible for.
Minority Law Student Associations and Organizations
Being a part of an association or organization has numerous benefits for students, especially those in demographics that lack representation.
Here is a non-exhaustive list of organizations and associations available for minority law students:
Importance of Joining an Association or Organization As a College Student
It is important for college students to join an association or organization. Some of the benefits that come along with being in an association or organization as a student include:
Adding another opportunity to spruce up your resume;
Developing communication and interpersonal skills;
Expanding your personal network;
Learning more about yourself and your peers;
Learning to work as a team.
Diversity Resources for Legal Professionals
As an employer, it should be a priority to hire diverse employees if not solely for the benefits that diversity in the workplace brings to the table. These benefits include:
A variety of different perspectives;
Increased creativity;
Higher innovation;
Better decision-making and problem-solving;
Increased profits;
Higher employee engagement.
Diversity in legal professions is important because it can bring in more clients, lead to increased innovation, and improve the odds of success for a legal team.
Listed below are resources legal professionals can join and/or utilize after college to help promote diversity in the field of law.
Professional Organizations and Associations
Here is a non-exhaustive list of different organizations and associations post-college legal professionals can join to gain a one-up in their career.
Importance of Joining an Association or Organization as a Legal Professional
It is just as important to join an association or organization as a practicing professional as it is while a student in college. A few benefits that can come from joining an organization as a legal professional include:
The ability to continue your education;
Being introduced to potential job prospects;
The ability to learn about the industry with help from a mentor;
Numerous networking opportunities;
Access to resources and new perspectives.
Resources for Starting a Law Firm
Minority law graduates may want to start their own law firm rather than applying for ones that are already established. While the reasons for doing so vary, what all prospective law firm owners can relate to is how difficult it can be to get started. Here are resources for those looking to start their own diverse law firm.
Minority Business Grants
Starting your own firm may require expenses that you don't have — luckily there are grants available to help individuals fund their business ventures.
Minority Business Accelerator Programs
A business accelerator is "a program that gives developing companies access to mentorship, investors, and other support that help them become stable, self-sufficient businesses." Start-up firms may choose to apply for business accelerator programs to assist them with the earlier stages of starting their firm. Here are a few examples of business accelerator programs available to those starting their own firm:
Organizations and Nonprofits That Support Minority Entrepreneur
Nonprofit organizations can be helpful because they have the ability to provide minority entrepreneurs the much-needed support they deserve while trying to open their own law firm. Here is a list of organizations and nonprofits that support minority entrepreneurs. 
Additional Resources on Starting and Marketing Your Firm
It takes a number of steps and resources to start a law firm. For instance, you need to set personal goals, create a clear business vision and leadership style, and build your clientele. Additionally, you must understand the importance of marketing your small business. To help feel more confident, law professionals should keep in mind the following points when marketing their law firm.
Capitalize on personal brands;
Develop high-quality content;
Stick to a specific niche;
Invest in paid search;
Manage your reviews;
Promote your content;
Think locally;
Use video to your advantage.
Marketing your new firm is essential to generating and converting successful legal leads.
Finding Clients
The difficulties of starting your own law firm don't stop after your business opens; in fact, this is just the beginning. You must now find clients that you and your firm can represent. There are too many law firms that miss out on legal leads because they aren't getting enough exposure, or doing adequate leg work to improve their firm's visibility and attractiveness to prospective clients. To avoid this, here are tips legal professionals can follow to help gain trust and better convert new law clients:
Create a blog on your website;
Cultivate referral sources;
Keep networking;
Understand and leverage online tools;
Work with your existing connections and contacts.
It is not uncommon to feel alone when you're a part of a community that is underrepresented. With the steady increase of organizations, programs, and scholarships being created to help combat this, it can help allow members of minority groups the opportunity to be heard.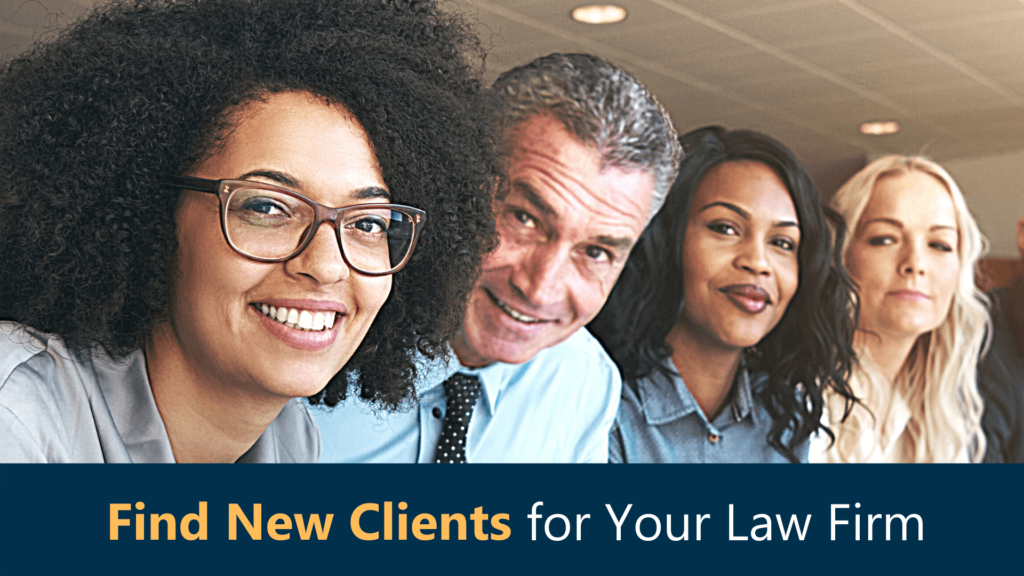 Law firms who need to Find New Clients are facing a big problem.
Potential clients are searching online for an attorney, and it's increasingly difficult for law firms to stand out in search results.
Here's how Legal Leads help.
1) We use 20 years of online advertising expertise to make sure potential clients in your region can find your law firm. As they search for an attorney, we route them to you as a Legal Lead.
2) Legal Leads are EXCLUSIVE and delivered in REAL-TIME through the web or LIVE on the phone. This means you can respond to leads right in the moment they reach out for help. It's the best time to win them as a new client.
You only pay when you receive a lead. You can stop at any time, and you have an excellent customer support team to help you succeed!
CREATE YOUR ACCOUNT at 4legalleads.com/lawyers. It only takes a moment. Then, we'll be in touch to help you complete your setup so you can start finding new clients!