Improve Your Legal Lead Conversion Rate
Win More Clients by Winning Their Trust with This Sales Script
So you have a great, exclusive legal lead who's from your region and matches your area of expertise on the phone. What can go wrong from here?
SO much! A sales call can go south quickly, and yet many attorneys tend to wing it when a little intentionality can make sure you avoid some common mistakes.
Here's a solid, easy-to-follow plan that will help you master your sales calls with leads. With this script you can earn the trust of potential clients and increase your lead conversion rate.
Part One
The Double-Win. Earn Trust While Qualifying the Lead.
Step One: "I'm glad you reached out to us. Before we move forward, I'd love to confirm your contact information in case we get disconnected."
This is a double-win. With this statement, the lead is feeling cared for right away, and you're earning trust. Meanwhile, you get some critical info in hand right away. Make sure you or your office staff capture any contact info you don't already have.
Step Two: "Great, and let's make sure we've gotten you to the right place. Do you need help with [YOUR CATEGORY OF LAW]?"
Now you can be sure the case is relevant to your firm while still tending to the lead's best interests. Also, if the category of law you cover has some other critical qualifying questions that determine if a case is valid (such as "At Fault" or "Date of Incident" for Auto Injuries), this would be a good time to ask.
Step Three: "Ok, and finally, are you currently being represented by an attorney?"
With that out of the way, the three biggest problem issues that can come up are cleared, and the whoever's running intake can now step back for the most critical moment of earning trust and improving your lead conversion rate.
Part Two
Empathy and Authority
Step One: "Great, so why don't you tell me more about the problem you're trying to solve?"
This next step is obvious, but the value of it is enormous. Here's where you start to earn trust, by listening. However, it's with the next two steps that follow where you begin to cement that trust.
Step Two: "You shouldn't have had to experience that."
This could also be "You didn't deserve…" but the point is to validate the lead's concern. This isn't "I'm sorry this happened to you." This is "That shouldn't have happened." The difference between the two statements is the active validation of their viewpoint. If you're practicing a category of law where this doesn't fit, skip to the next statement.
Step Three: "I understand how frustrating your situation is. I've helped a lot of people in your position, and it's very difficult."
However you phrase it, the words "I understand" create a bridge of empathy with your client, and this is the bridge which earns your trust in the next steps of the call. Don't skip this! This simple statement is a key to improving your lead conversion rate.
Step Four: Prepare an "Authority Statement".
Once you've shown empathy, it's finally time to drop your credentials and continue to earn the lead's trust. Pick two to three simple bullet points you can offer, such as "Well, I've been doing this for twenty years and have helped hundreds of clients through similar situations. I'm backed by two partners who have similar experience, and we work together to make sure no opportunities are missed to win your case." 
Part Three
The Plan and the Preview
Step One: Prepare a "Plan Statement".
People don't walk into ambiguity, and few things feel more ambiguous to most people than the legal process. One of the chief reasons attorneys experience a low lead conversion rate is that they fail to bridge people's fear of the legal process to a sense of comfort and trust. If you give them a sense of what the next steps are, even if it's a "plan to figure out the plan," your lead will be more willing to follow you. For example…
"First, we'll set up an appointment so we can really hear the details of your case. My assistant will help you prepare for that."
"Then, I'll show you a roadmap for how we'll approach this case so you understand the next steps."
"And here's how the payment plan works…"
Step Two: Preview a hopeful "Image of Success".
This is tricky. We all know that success isn't guaranteed in the legal process, but your lead is looking for hope, and if you redefine success as "having the best legal representation possible," you still have something hopeful to offer. Here are some examples…
"So I'll be honest, no one can guarantee the outcome of something like this, but I can guarantee that you will have done everything you could to win this case, and we will have done the same."
"You'll have a dedicated team behind you all the way."
Part Four
The Call to Action
Make The Call: "So let's set you up with your first appointment."
Do more than just ask your lead to "get started." Give them a specific step to take. Whatever the first thing is you need them to do to represent them, ask them to do it. If they demure and feel they need time to think, set up a specific follow-up conversation. Don't lose the great work you did on this sales call to improve your lead conversion rate!
You may have noticed a pattern in this script.
It's designed to keep the focus of the conversation on the lead because that focus earns their trust and increases your lead conversion rate.
Attorneys feel pressure to prove their expertise and competency right away when what a lead really wants to know first is that they're being heard and cared for.
So give it a try! Make sure your 4legalleads.com account is funded HERE so you can win more clients by winning their trust!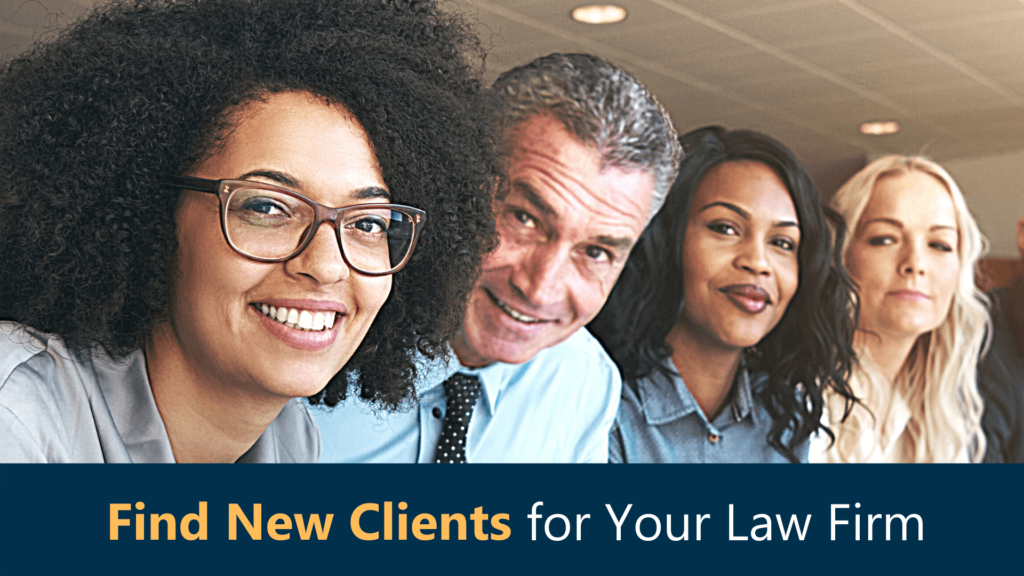 Law firms who need to Find New Clients are facing a big problem.
While nearly all potential clients are now searching online for an attorney, it's become increasingly difficult for law firms to stand out in search results.
Here's how Legal Leads help.
1) We use 20 years of online advertising expertise to make sure potential clients in your region can find your law firm. As they search for an attorney, we route them to you as a Legal Lead.
2) Legal Leads are EXCLUSIVE and delivered in REAL-TIME through the web or LIVE on the phone. This means you can respond to leads right in the moment they reach out for help. It's the best time to win them as a new client.
You only pay when you receive a lead. You can stop at any time, and you have an excellent customer support team to help you succeed!
CREATE YOUR ACCOUNT at 4legalleads.com/lawyers. It only takes a moment. Then, we'll be in touch to help you complete your setup so you can start finding new clients!