A Marketing Overview for Law Firms and Attorneys
If you own your law practice, you may think of yourself as a lawyer instead of a businessperson. However, a law firm is still a business, and it's just as important to manage your business well as it is to excel as a lawyer.
Marketing is one of the most critical components of proper business management. It's a necessity to find the legal leads you need to grow your practice and establish your firm as a reputable source of legal assistance in your community. Essentially, marketing is essential to help more consumers discover your business and services, and your practice may struggle to attract clients without it. 
If you're just starting out, it's important to understand the basics of marketing for law firms; even if you've owned your practice for years, you should take the time to refresh your memory and get up-to-date on current marketing best practices. Luckily, education is half the battle of actually marketing any business. Here's an overview of what you need to know to effectively and successfully market your law firm:
Define Your Goals
First and foremost, you need to define goals for your practice. Not only do you need to work towards something, but the goals you set will guide your entire marketing strategy. Do your best to set goals that are specific, measurable, and realistic for your organization to attain. If you set goals that are impractical or too abstract and broad, you will set yourself up for failure rather than success. For example, "getting more clients" isn't the best goal, as it is hard to measure and undefined; on the other hand, "increasing lead conversions by 10%" is very clear, easier to track, and more realistic than simply attracting more clients.
To reach your goals, you will need to make a plan and employ a combination of strategies and tactics. In the context of marketing, each of these terms has a unique and distinct meaning:
Strategies

are general, long-term approaches used to achieve goals; 

Tactics

are specific, short-term tools and methods used to support larger strategies and achieve goals;

Plans

are how you use both strategies and tactics to achieve your goals.
Use the example of increasing conversions above. If your goal is to increase lead conversions by 10%, your strategy might be to focus on optimizing your website to improve your conversion rate. You could then use specific conversion rate optimization (CRO) tactics, such as A/B testing your converting page. Your plan would then be the steps you would take to improve your CRO, such as trying out different calls-to-action.
Keep in mind that, no matter what your initial goals are, it's natural for them to shift or change altogether as you experiment, learn more, and refine your marketing efforts. If you do set new goals, just be sure to tweak your strategies, tactics, and plans to match them.
Compile Your Toolkit
All businesses, regardless of niche, need a marketing toolkit. Your toolkit represents all of the different things you can use to market your practice. Your kit should include essential, basic tools, such as your biographical information, professional headshots on your website, and your specific vision of the lead funnel for your business. 
As time goes on, you can expand your marketing kit to include more advanced tools, especially those that can help with marketing your business online. Some of these additional tools include:
Law Firm Internet and Content Writing Strategies
Content marketing involves creating, publishing, and distributing content (such as blog posts and infographics) online to a clearly defined target audience. The purpose of content marketing is to educate consumers about your brand, demonstrate your expertise on relevant subjects, and show your customers that you understand their interests, pain points, and concerns. This has become one of the most popular methods of digital marketing, with 70% of marketers actively investing in content marketing to support their larger marketing strategies.
To create content marketing materials, you need to consider who your audience is, what topics they care about or what information they want to know, and the way they prefer to consume that information. However, the information you cover in your content marketing materials should still clearly align with your own branding and services. As a lawyer, this means that instead of discussing health and wellness or the latest trends in technology, you'll want to address legal topics related to your locality and specialty.
The content marketing materials you create can be used for a variety of purposes, including search engine optimization (SEO), pay-per-click advertising, and social media marketing. Find the best ways to share the materials you create for your audience by experimenting with these different digital marketing channels, and don't be afraid to leverage a single piece of content to reach as many readers as you can.
Law Firm Social Media Marketing
Having a presence on social media is all but a requirement for any business. Globally, almost three billion people use social media, and this number is only expected to increase in the coming years. This is a huge built-in audience that you and your business could miss out on if you aren't on social media. 
You don't necessarily need to be on every platform, but at the very least, your business should have a profile on Facebook and LinkedIn. These two platforms are the most popular among legal niches, with over 84% of surveyed lawyers claiming to have a LinkedIn profile, and Facebook coming in a close second. Many lawyers also report using Twitter on a regular basis. 
You can (and arguably should) use social media to distribute your content marketing materials and promote your brand, but that's not all it's good for. Social media is also an efficient and effective way to interact directly with and learn more about potential clients, participate in your larger professional community, and receive comments, reviews, and feedback from your clients. Simply put, there are countless benefits that come from marketing your law firm on social media, and you should absolutely take advantage of them for your business.
Legal Directories
Similar to old phone books, legal directories are lists of different lawyers and law firms that users can peruse to find legal assistance. On occasion, these directories also include ratings, reviews, and other important feedback from customers. While there are some national legal directories, others are regional, local, or specialty-specific. 
Getting listed on legal directories is a simple but effective way to get your name out there and in front of the eyes of more qualified readers who may be in the market for legal assistance. Legal directories can also help your SEO efforts, as listings often include a backlink to your website. To get listed, you have to get in touch with the operators of the directories themselves. While many will add your listing for free, you may have to pay to get listed on others. 
Email Marketing
Email marketing involves promoting or advertising your practice through emails to your audience. These emails can be used to develop relationships with potential clients and retain your current clients. Email marketing is among the oldest forms of digital marketing, and one that has proven to be highly successful, especially for the legal niche. The email open rate for the legal niche is 44%, noticeably higher than the average of 32% across all industries. 
For effective email marketing, you need to place your subscribers into different categories or segments, based on factors like their location, practice area of interest, and where they are in their buying journey. This will ensure readers receive content that is interesting and relevant to their needs — after all, someone who is ready to hire a lawyer likely doesn't need introductory information about your practice area, and someone who is still learning basic information may not enjoy more explicit advertising.
Traditional Marketing
Of course, you can always use more traditional marketing methods to inform consumers about and attract customers to your firm. This encompasses a wide variety of practices, from cold and warm calling potential clients to advertising your business on billboards or television. Offline marketing is particularly great if you want to establish yourself and your brand in the local community. 
Generally, it's a good idea to use both offline and online marketing activities when promoting your practice, as you can't rely on any single marketing channel to meet your goals. Continually experiment with different strategies and tactics to find what works best for your firm.
Converting Leads Into Clients
Marketing your business is the key to finding qualified leads in your area, but once you do find them, you still have to work to convert those leads into clients. Conversion is the final step in the larger marketing process — it should be what you're ultimately working to achieve in all of your offline and online marketing efforts. 
While you can certainly use technology to enhance conversions and sales, don't overlook your offline marketing efforts when it comes to nurturing leads. Each lead is different. Depending on their own journey and how they found your practice, they will have different needs and convert in different ways. Do your best to give every lead the time and attention they deserve, and nurture them toward conversion in a way that makes sense for that unique individual. 
Measure Results and Adjust Goals Accordingly
Finally, you should continually measure the results of your marketing efforts to see how well they've worked for your business. Any marketing practice is best used when you've reviewed its success and worked to improve upon its performance. This way, you can understand what methods work for you and why. 
Measuring your results also provides the perfect opportunity to review your goals and adjust them accordingly. As you hone your marketing strategies, your law firm will change, which means your goals and metrics for success will change too. Marketing is an ongoing process that requires time and attention; continually reviewing and updating your marketing goals and efforts is, ultimately, what will help your law firm thrive and flourish.
At 4LegalLeads, we're committed to helping legal professionals grow their businesses. Leads are just one part of a successful legal business strategy, so our blog covers a wide range of topics.
We believe you deserve both quality legal leads and the knowledge you need to make the most of your investment. Explore our blog further to find the tools that help you succeed!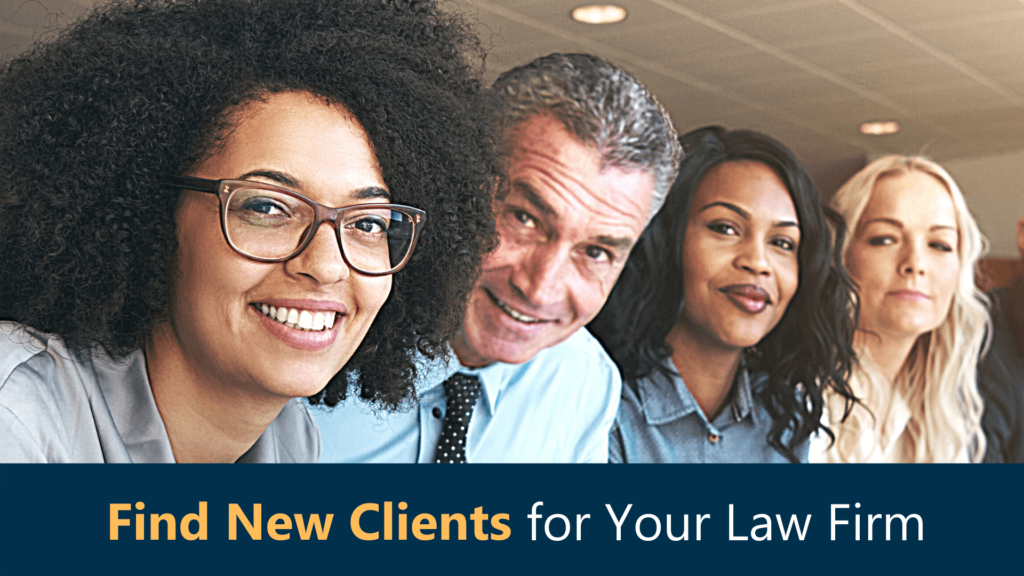 Law firms who need to Find New Clients are facing a big problem.
While nearly all potential clients are now searching online for an attorney, it's become increasingly difficult for law firms to stand out in search results.
Here's how Legal Leads help.
1) We use 20 years of online advertising expertise to make sure potential clients in your region can find your law firm. As they search for an attorney, we route them to you as a Legal Lead.
2) Legal Leads are EXCLUSIVE and delivered in REAL-TIME through the web or LIVE on the phone. This means you can respond to leads right in the moment they reach out for help. It's the best time to win them as a new client.
You only pay when you receive a lead. You can stop at any time, and you have an excellent customer support team to help you succeed!
CREATE YOUR ACCOUNT at 4legalleads.com/lawyers. It only takes a moment. Then, we'll be in touch to help you complete your setup so you can start finding new clients!