How to Make Your Law Firm Operate Remotely
Managing an effective law business isn't just a matter of making sure your partners collect wins in the courtroom. It's about the entire journey of your client's discovery of your law firm, the client relationships that you build, and the work that you perform.
Given the increasing number of digital customers who discover businesses and make purchases online, making your law firm remotely accessible can help you meet your clientele where they are looking for you. Adapting your law firm to the virtual realm can also make your business more sustainable and increase your disaster preparedness, which was the case for businesses that were able to adopt work-at-home policies after the emergence of COVID-19. Remote capabilities can be beneficial for employees, employers, and clients, but they require the right structure, policies, and tech outlined in this article.
Equipment for Remote Work
Making your law firm operate remotely will require the right tools, and you may need to consider making a few investments for yourself and your team. You and your employees will need to ensure you all have the right internet bandwidth and technology needed to complete tasks or participate in conference calls in a home office.
You could either have employees use their own devices, or you could purchase equipment and lend it to employees. If you choose to offer equipment to your employees, you may need to adopt new company policies and procedures to support these changes and address any issues that arise from technical difficulties to lost or broken equipment.
It is incredibly important to consider your home office space. You and any employees who will be video conferencing with clients will need to ensure that you present a professional appearance. This may include setting up a webcam with good lighting, assembling your workspace so that it is functional and organized, or even setting up a privacy divider or bookshelf to make your client feel more secure.
It is important to set clear expectations regarding your virtual surroundings, and even your appearance. You may wish to create a dress code that would mimic your in-office dress code for professional meetings and virtual conferences.
Create a Plan for Collaboration and Communication
When moving into a virtual atmosphere, you will need to design specific pathways and actions for communication. You should consider designating outlets for different types of communication.
This may include text messages for urgent needs, use of a specific app — such as Slack— for general daily communications, and a uniform video conferencing software — such as Google hangouts or Zoom — for virtual conference calls. You will also need to be adaptable to the needs of your clients, and the apps they may have access to
There are also collaborative workflow programs that keep you and your staff accountable such as Asana, or Monday.com. Since your team will not be working in the same space, you must get connected and create a process for accomplishing tasks and projects. Sharing information can help limit the effects of isolation, and keep your staff productive and on the same page.
Review Client File Storage and Security
In addition to creating a productive, organized workflow that is sharable and accountable, you will need to take into account your client's sensitive information and security.
Your virtual law firm will need to have a data repository that houses your information and files, and it must be secured against cyber attacks. This may include backing up and encrypting your data, using password management or DocuSign software, and setting up a VPN for you and your employees. You will also need to consider downloading antivirus and security software that is legally compliant and perform regular updates.
If you choose to adopt a bring-your-own-device method, you'll need to take into consideration the legal ownership of documents, as well as the legal responsibility for the information accessed on each device. Further precautions you should consider providing staff and clients with training to help them recognize and avoid phishing scams.
Develop Processes and Procedures
All of the tools and applications it will take to ensure your office is ready for remote work will need to be organized into processes and procedures. You will need to designate methodology for how, when, and where communication and tasks will take place.
Each employee will need to understand their ownership of and responsibility for completing tasks, and how you intend to organize documents and information on upcoming trial dates, mediation, and document signing. It's helpful to create a shared calendar that notes all responsibilities, due dates, and conference calls.
Outsourcing various business functions can be a great way for you to utilize the expertise of other companies while keeping the day-to-day and law practice tasks in-house. This may include outsourcing IT functions and cybersecurity or seeking legal lead generation services.
If you run a legal plan business, you may also consider a virtual assistant that can help keep your outsourced legal leads, documents, meetings, and agenda organized. Other virtual options to help keep your business organized may include virtual accountants, marketing, and search engine optimization (SEO) consultants. By outsourcing more of the business aspects of your virtual law firm, you may be able to pay more attention to the cases you have on hand, or expand and develop your legal business.
Maximize Your Online Presence
As you're running a remote working law office, you will need to build and maintain a strong online presence because you will not have a brick-and-mortar office that speaks to your professionalism or the services you provide. Creating an attractive, unique, easily navigable, and professional website that outlines your services and includes professional headshots and professional bios of your lawyers and attorneys can help you attract and give confidence to your leads and future clients.
If you choose not to outsource your marketing needs, you may need to brush up on marketing tactics for law firms and SEO practices such as content creation. Your website will need regular updates and content that keeps your law practice site current and discoverable
Utilizing social media to share your content may help you network and build relationships with clients as well as other legal service providers. It is important to remember that your online imprint and communication skills will be the face of your remote legal business. Keeping in regular touch with your clients, future clients, and peers is essential to building and maintaining the relationships you need in order to successfully work from home in your virtual law office.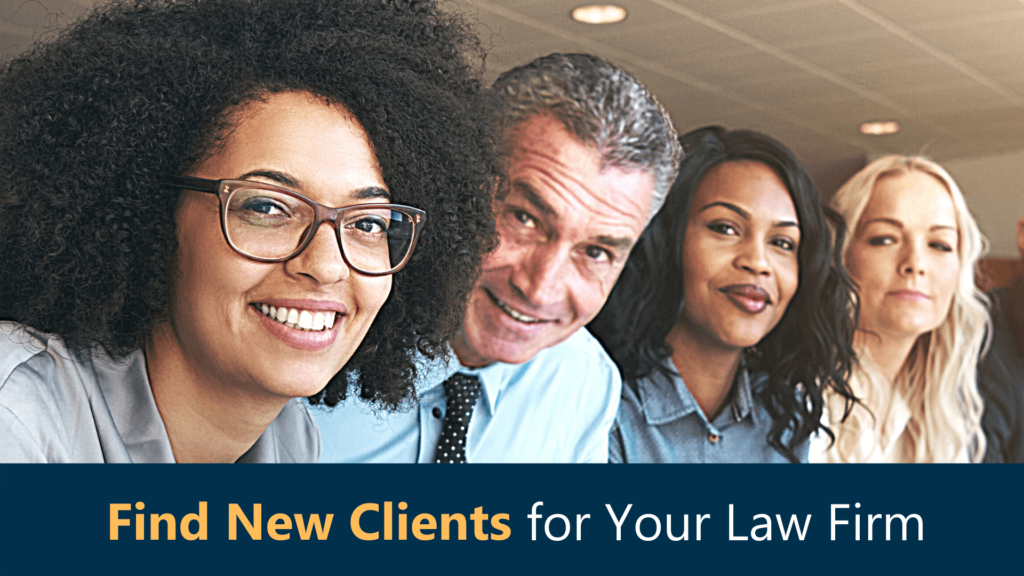 Law firms who need to Find New Clients are facing a big problem.
While nearly all potential clients are now searching online for an attorney, it's become increasingly difficult for law firms to stand out in search results.
Here's how Legal Leads help.
1) We use 20 years of online advertising expertise to make sure potential clients in your region can find your law firm. As they search for an attorney, we route them to you as a Legal Lead.
2) Legal Leads are EXCLUSIVE and delivered in REAL-TIME through the web or LIVE on the phone. This means you can respond to leads right in the moment they reach out for help. It's the best time to win them as a new client.
You only pay when you receive a lead. You can stop at any time, and you have an excellent customer support team to help you succeed!
CREATE YOUR ACCOUNT at 4legalleads.com/lawyers. It only takes a moment. Then, we'll be in touch to help you complete your setup so you can start finding new clients!