How to Enhance Sales With Technology
Technology has changed the way companies do business, and has helped companies streamline many processes, including data collection and inventory management. These advancements have also changed the way companies communicate with customers and the methods employees use to share information.
In addition to streamlining internal processes, technology has made it possible for businesses to enhance their sales procedures. From prospecting potential clients and acquiring leads to closing deals, technology can touch on every aspect of the sales process to make it more efficient and engaging.
1.   Video Conferencing
Business owners and sales managers may find it hard to continue connecting with sales representatives who travel constantly or work remotely. Video conferencing has made it easier than ever to instantly connect face-to-face with these reps without bulky or expensive equipment.
With video conferencing, sales meetings can be held virtually. With both video and audio connected, sales representatives and managers can have extensive conversations about goals and procedures while analyzing each other's facial expressions and body language. This allows supervisors to coach sales representatives with more energy and enthusiasm so they gain motivation to close deals and implement new strategies.
2.   Webinars
Dedicated salespeople are consistently on the lookout for educational opportunities that help improve their professional skills. Learning about the latest sales techniques, client retention strategies, marketing tools, and ways to close more deals is important to their livelihood.
Webinars harness the power of the online world to make learning accessible to anyone, anywhere. Sales instructors and experts can host webinars that allow salespeople across the world to tune in and learn about new strategies. Some webinars even allow attendees to interact with each other or query an expert panel for feedback.
3.   Mobile Devices
Mobile devices have altered the way nearly every industry does business. Salespeople can use mobile phones, tablets, laptops, and other devices to enhance their sales presentations when they're meeting with potential clients. These devices can also be used to instantly contact managers or product designers if clients have unique questions that need to be answered on the spot.
When salespeople are on the road, they can use these devices to engage in online marketing techniques so they can continue to intrigue potential clients through email campaigns or on social media. These devices also allow for constant contact and collaboration with supervisors or sales coaches, which can help salespeople gain the confidence they need to close deals.
4.   Social Media
Social media networks are online platforms that allow salespeople to connect with large audiences. By posting about their company or product on social media, salespeople can engage and build rapport with potential customers. The conversations and interactions that occur on these platforms can easily lead to in-personal meetings and potential sales.
Social media allows salespeople to start interacting with potential customers early in the sales cycle. Using these platforms to better understand their ideal customer, salespeople can modify their approach to match the type of buyer they need.
5.   Customer Relationship Management
Customer relationship management (CRM) allows salespeople to precisely track potential customers as they work through the sales funnel. From the moment a salesperson gets qualified leads, they can utilize software to take notes on the customer's interests, recommended products, and level of interest.
CRM software makes it easier for salespeople to remember their interactions and conversations with potential clients. This can make the sales process feel more personal.
6.   Cloud Computing
Most sales and CRM software is cloud-based, which means it's all stored together and is accessible from any device at any time. This is great for salespeople who are always on and must be ready to answer customer questions or respond to inquiries at any hour of the day. With cloud-based CRM software or other sales-related technology, salespeople have access to data and customer details wherever they are.
Certain cloud computing software solutions also quickly analyze industry conditions, customer preferences, and current company sales. This allows salespeople to understand which products consumers are interested in and the angle they should take when speaking to new sales leads.
7.   Marketing Automation
The sales process is made up of several small and time-consuming tasks, such as following up with phone calls, sending out emails, or reaching out to leads on social media. Technological advancements in marketing automation save salespeople time when making these points of contact.
When a salesperson uses marketing automation technology, they can set up email campaigns to automatically send to certain potential customers at specific times. They can also create social media posting calendars that strategically schedule when content is shared.
With this type of automation software, salespeople no longer need to outsource the business of content creation or marketing tasks. They can simply set up campaigns and schedule posts to continue engaging with clients while working on other tasks.
8.   Emerging Sales Technology Tools
Technology is always evolving; while current technology has changed the way salespeople prospect for clients and close deals, it's important that they continue paying attention to the latest advancements.
Tablets may completely replace laptops or cloud-computing data may become the most valuable resource for closing a deal. Artificial intelligence may also become a part of the sales process and may be used in the future to demonstrate product functionality or answer customer questions.
Technology has been embraced in the business world and salespeople are also tapping into technological advancements that help them be more productive and efficient. With mobile devices and social media, salespeople can interact with clients, mentors, and supervisors more frequently and directly. As technology continues to advance and grow, salespeople will find even more innovative ways to engage potential customers and move them through the sales process.
At 4LegalLeads, we're committed to helping legal professionals grow their businesses. Leads are just one part of a successful legal business strategy, so our blog covers a wide range of topics.
We believe you deserve both quality legal leads and the knowledge you need to make the most of your investment. Explore our blog further to find the tools that help you succeed!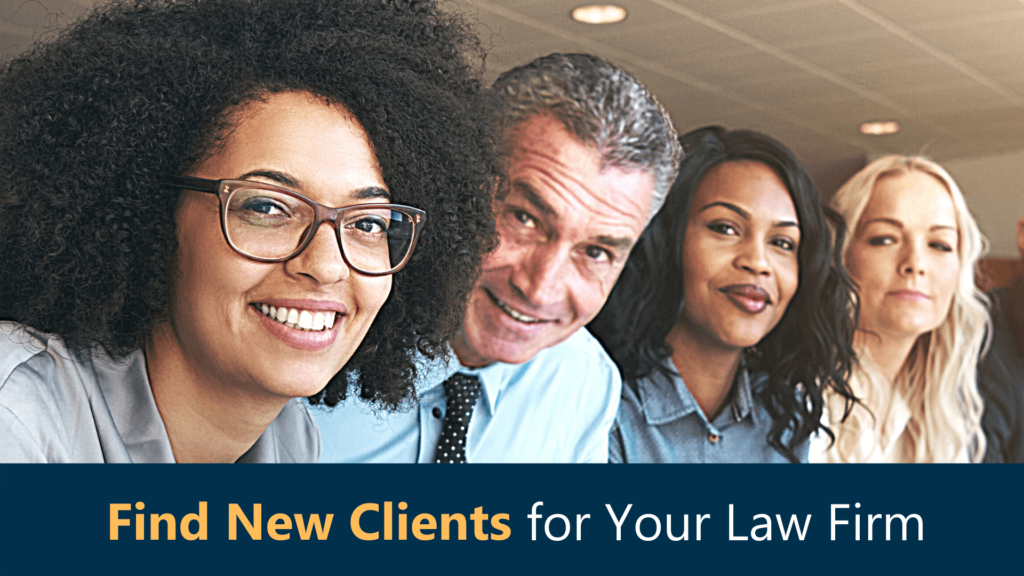 Law firms who need to Find New Clients are facing a big problem.
While nearly all potential clients are now searching online for an attorney, it's become increasingly difficult for law firms to stand out in search results.
Here's how Legal Leads help.
1) We use 20 years of online advertising expertise to make sure potential clients in your region can find your law firm. As they search for an attorney, we route them to you as a Legal Lead.
2) Legal Leads are EXCLUSIVE and delivered in REAL-TIME through the web or LIVE on the phone. This means you can respond to leads right in the moment they reach out for help. It's the best time to win them as a new client.
You only pay when you receive a lead. You can stop at any time, and you have an excellent customer support team to help you succeed!
CREATE YOUR ACCOUNT at 4legalleads.com/lawyers. It only takes a moment. Then, we'll be in touch to help you complete your setup so you can start finding new clients!