Questions to Build Rapport With New Clients
Developing rapport with someone refers to creating a sense of harmony, camaraderie, and invested interest with another individual. Lawyers, accountants, sales teams, and numerous other professionals require the ability to build rapport. In many industries, maintaining ongoing relationships with clients, providing stellar customer service, and nurturing future leads all hinge on a strong back-and-forth with the customer.
This piece will explore a few of the benefits of building a healthy rapport with clients, and also breakdown different categories and examples of questions to help you "break the ice" with new clients.
Benefits of Building Rapport With Clients
If you can approach building rapport in the right way, it can yield a number of different benefits. For instance, good rapport:
Builds client trust: If a client feels genuinely cared for, they can be more willing to open up and trust you.
Increases client retention: When a customer has a relationship with you, they're less likely to abandon that relationship on a whim.
Demonstrates commitment: There's nothing like displaying an interest in a client to show them that you're committed to understanding them and meeting their needs.
Helps you understand the customer: Building a sense of empathy is a cornerstone of good client care, and can help you better understand the quality of the leads you engage, and set you up for more compelling, personalized follow-up communication.
Sets the stage for tough questions: If you have good rapport, it can be much easier to broach a challenging subject.
Why Is Rapport Building Effective?
Good rapport with a client means both parties have opened up to each other. Conversations aren't superficial; instead, they are infused with trust.
This type of relationship requires a sense of honesty. As you go about your professional interactions, the objective should be to engage the customer and strive to be a positive moment in their day.
Types of Rapport Building Questions
When building rapport with a new client, it's important to consider the questions you have available. Typically, these can be reduced to four different categories:
Personal
Personal questions are highly targeted queries that are clearly customized to the customer and require an engaging answer.
They go deeper than "how are you today?" and show that you're genuinely interested in learning about the person. These questions are powerful, but be careful to avoid sensitive topics such as gender, race, politics, or religion.
Career
Inquiring about a person's career can make for a quality conversation starter.
Questions can be sourced from an individual's social media pages and can help you learn more about their individual goals and past successes and failures. Remember to avoid poking at delicate subjects, such as why they left a previous position.
Location
A person's geographic location is a great way to invite discussion.
If you know the region or city that a person is from, reference an important landmark, piece of history, or recent news story that pertains to the area. Try to avoid anything that might be stereotypical or derogatory.
Pop Culture
Pop culture is a topic that brings can unite generations. Bringing up something that is trending can be an easy way to slip into a comfortable conversation.
Avoid polarizing topics that only allow for a charged response, such as bringing up celebrity politics.
Examples of Rapport Building Questions
There are countless questions that can be created for each of the above categories.
As you develop your rapport questions, remember to keep things light and engaging. Avoid the temptation to turn a friendly inquiry into an interrogation. Consider professional boundaries within each relationship and stay aware of when it's time to stop shooting the breeze so that you can focus on business.
Here are a few examples of appropriate icebreakers for each category:
Personal
It says that you like [activity] on your Facebook page. What got you interested in it?
When I was preparing for our conversation, I saw that you support [non-profit organization]. How did you get involved with helping them out?
I saw that you love to read. What is the best book you've ever read?
You seem like a very productive person. Do you have any time-management or organizational tips?
Career
I see that you worked in [previous industry] before. What got you interested in that line of work?
What prompted you to start your own business?
What did you go to school for?
Do you have a past employer that you loved to work for?
Location
You live in Upstate New York? Is the foliage in the fall as good as they say?
It says on your LinkedIn page that you spent time in Peru. Did you ever visit Machu Picchu while you were there?
I see you're located in Miami. Were you okay during the last hurricane?
You're in Denver, right? Are you a Broncos fan?
Pop Culture
Have you seen the latest Marvel movie?
Do you follow [industry leader or business]'s blog?
Did you see the new iPhone that Apple announced?
Your profile says you love sci-fi. Have you seen the latest episode of the Mandalorian?
Use these as a launching point to create your own toolkit of questions personalized to each relationship that you want to cultivate.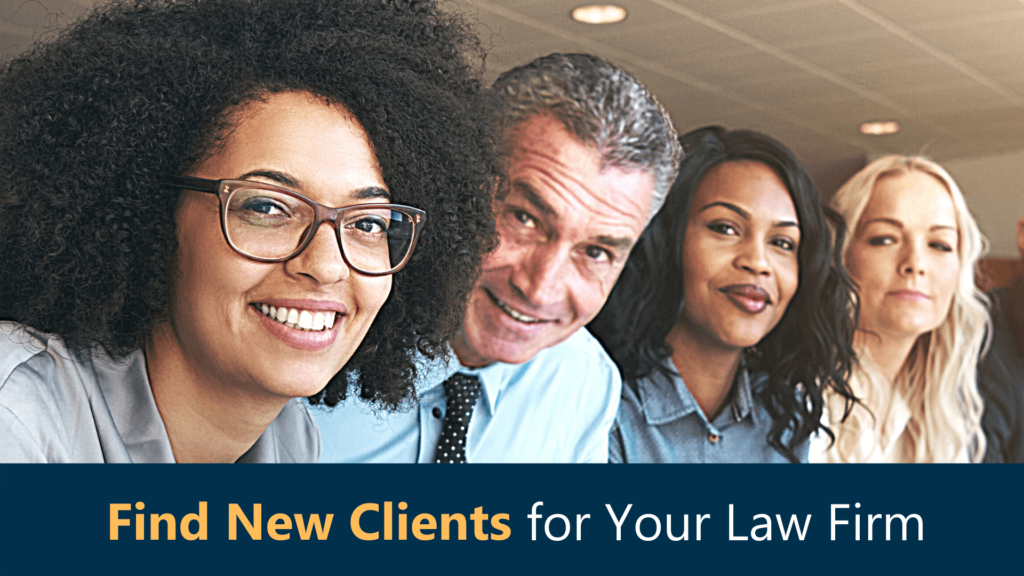 Law firms who need to Find New Clients are facing a big problem.
Potential clients are searching online for an attorney, and it's increasingly difficult for law firms to stand out in search results.
Here's how Legal Leads help.
1) We use 20 years of online advertising expertise to make sure potential clients in your region can find your law firm. As they search for an attorney, we route them to you as a Legal Lead.
2) Legal Leads are EXCLUSIVE and delivered in REAL-TIME through the web or LIVE on the phone. This means you can respond to leads right in the moment they reach out for help. It's the best time to win them as a new client.
You only pay when you receive a lead. You can stop at any time, and you have an excellent customer support team to help you succeed!
CREATE YOUR ACCOUNT at 4legalleads.com/lawyers. It only takes a moment. Then, we'll be in touch to help you complete your setup so you can start finding new clients!