Lead Nurturing: What It Is, Why It's Important, and Top Tactics for Success
Lead nurturing is the practice of establishing, building, and strengthening relationships with prospective clients and customers at each step of the lead funnel. It requires businesses to share educational materials, demonstrate their brand's unique value, and maintain a connection with potential customers. The goal of lead nurturing is to convert these leads into customers and encourage them to choose your business when they're ready to make a purchase.
Lead nurturing helps bridge the gap between lead generation and successful conversion. Many people aren't ready to engage with a business immediately after learning of them. However, that doesn't mean they're a lost cause — it simply means you have to grow your relationship until they are ready to become customers.
The Benefits of Lead Nurturing
It isn't just beneficial for businesses; it's essential if you want your organization to succeed. Despite your best efforts, not all of your leads will convert, especially if you don't make an effort. One report discovered that, on average, nurtured leads increase sales opportunities by 20%. Essentially, nurturing leads helps you make your lead gen efforts worthwhile, increasing the overall return on your investment.
In addition, lead nurturing helps you build connections with your clients. Through these ongoing relationships, you can get valuable feedback from and gain knowledge about your customers, their pain points, interest, and priorities. This type of information is priceless, allowing you to make well-informed decisions for your business and giving you a major edge over your competitors.
Finally, and perhaps most importantly, lead nurturing and consistent communication makes your business difficult to forget. Depending on the nature of your messaging, your communications may boost the reputation of your organization and make you seem more trustworthy to potential customers. With your communications at the forefront of their minds, customers will think of your brand first when they are finally ready to convert.
What Is a Lead Nurturing Campaign?
A lead nurturing campaign involves sharing educational messaging and marketing materials with prospective customers. They can be used to complement other marketing efforts for your business, but lead nurturing campaigns have the distinct goal of encouraging customers to convert.
Between traditional and digital marketing channels, there are countless ways you can create a campaign to nurture leads, including:
Personalized emails;
Direct mail;
Website or blog content;
Social media;
Email drip campaigns.
With the help of sales technology and advancements in marketing automation, it's relatively easy and affordable to use multiple channels and craft a comprehensive campaign.
Lead Nurturing Campaign Strategies
No matter what tactics you use, an effective lead nurturing campaign is the key to inspiring customers to convert. The following best practices will help you build a successful campaign that benefits your business and your customers:
Define Your Goals
Before anything else, determine your goals. Having goals is essential for any marketing strategy to succeed. Without a specific purpose, you will struggle to accomplish much of anything. Ideally, these goals will align with and support your organization's existing marketing and sales objectives.
Understand Your Ideal Client
Similarly, understand who your ideal client or customer is. It's difficult to successfully convert a lead if you don't know the best way to connect with them. What do they want and need? What are their pain points and interests? What path do you expect them to take on their journey to conversion?
Consider creating buyer personas that detail all of the important characteristics of your ideal customers. You can then create content and leverage marketing assets that speak specifically to each persona for maximum effect.
Create a Customer Database
Creating a detailed database of your customers can help you keep track of all of this information. That way, the appropriate messages go to the right customers at the right time.
You can also consider using a customer relationship management (CRM) platform to keep tabs on your leads' activities. Depending on the platform you choose, you can get more detailed information about your leads' behavior, such as the source of the lead, how they use your company's website, and which communications they've responded well to. A CRM system is also helpful for retaining your existing clients and customers.
Score Leads
Take some time to assess the quality of each of your leads . Called "lead scoring," this practice helps you determine how likely a lead is to make a purchase. You can more easily leverage the appropriate marketing materials for each lead based on their score.
You can use your ideal buyer personas to create the scale you use to score your leads. Make room in your scale so scores can change based on buyer behavior. Someone who ends up converting may not initially fit your ideal buyer persona; conversely, someone who seems like a perfect match may not be as strong of a lead as you initially thought.
Follow Up With Each Lead
Consistent and timely follow-ups are a crucial component of lead nurturing. You have to keep leads engaged with your brand. You don't have to inundate your leads with a barrage of emails, social media posts, and other marketing messages, but you also don't want to give them any time to forget about your business.
Depending on your organization, you may be able to use marketing automation for your follow-ups. If you need to send marketing emails, for instance, you can send automated messages that are still targeted and personalized to all of your leads. If you have a small business, you may want to hand-craft follow-up emails  or make a phone call to your leads. Generally, automation works well for casual or large organizations (such as e-commerce sites or retail stores) while individual messages are better for smaller businesses or professional services (such as lawyers or contractors).
Generate New Leads
While it's important to nurture your existing leads, you can't forget about generating new leads. If you don't continue to generate leads, you'll eventually run out of leads to nurture. They are both critical parts of the sales process, and if you want to maximize conversion, neither can be ignored.
Lead nurturing can generate new leads through referrals and word-of-mouth marketing, but you should still actively focus on lead generation. You can employ your own lead generation strategies or hire a lead gen company for additional assistance. There is no single best way to generate leads — as long as it works well for your business, that strategy is worth using.
Lead nurturing is the natural and necessary next step between lead generation and conversion. When you make a strategic plan, you can capture all of the associated benefits of lead nurturing and help your organization flourish.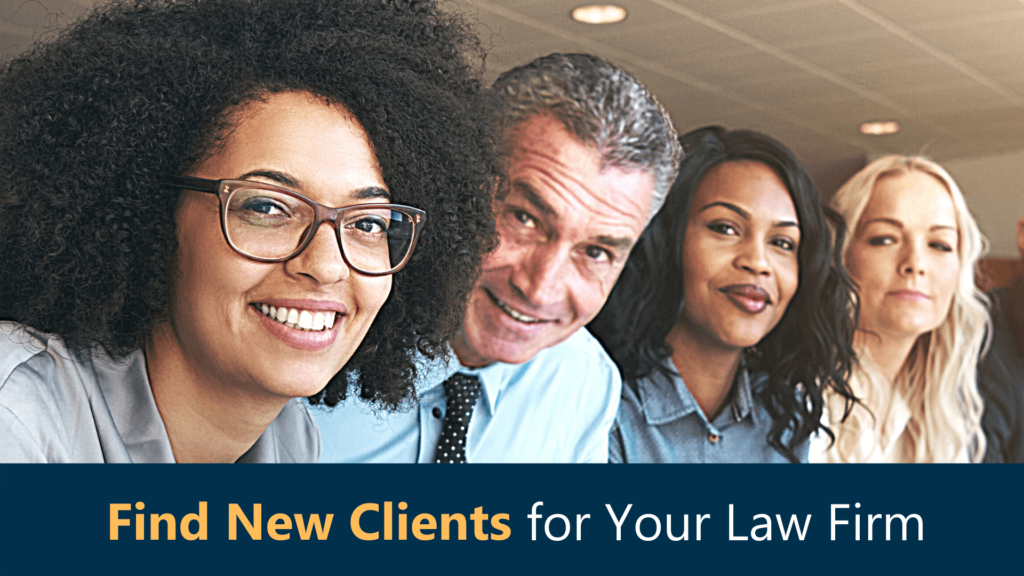 Law firms who need to Find New Clients are facing a big problem.
Potential clients are searching online for an attorney, and it's increasingly difficult for law firms to stand out in search results.
Here's how Legal Leads help.
1) We use 20 years of online advertising expertise to make sure potential clients in your region can find your law firm. As they search for an attorney, we route them to you as a Legal Lead.
2) Legal Leads are EXCLUSIVE and delivered in REAL-TIME through the web or LIVE on the phone. This means you can respond to leads right in the moment they reach out for help. It's the best time to win them as a new client.
You only pay when you receive a lead. You can stop at any time, and you have an excellent customer support team to help you succeed!
CREATE YOUR ACCOUNT at 4legalleads.com/lawyers. It only takes a moment. Then, we'll be in touch to help you complete your setup so you can start finding new clients!