Table of Contents
Resources for Women-Owned Businesses
The statistics show just how women have gradually become a prominent force in the business world: Approximately 11.6 million firms are owned by women, representing nearly 40% of all privately held firms. Further, around 4.2% of these firms have a revenue exceeding $1 million. These statistics illustrate a drastic shift in what has long been a male-dominated sector — but these changes haven't come without difficulties.
Indeed, businesswomen continue to face many barriers. A lack of access to capital, inadequate support systems, dated social expectations, and various other gender inequalities can make entrepreneurship substantially more difficult for women than their male peers. Some industries, such as tech and financial services, have a clear lack of gender diversity when it comes to business leadership. In these areas, succeeding as a female entrepreneur can be a daunting, seemingly impossible task — "seemingly" being the operative word.
This is because there are many sources of vital information, grants, and resources that can help female small business owners become successful leaders in their respective industries. This guide will provide an overview of these and help aspiring businesswomen overcome the challenges they may face.
Funding for Women-Owned Businesses
Women-owned businesses can struggle due to a lack of access to capital. There is a gender gap in equity financing and loans, making it difficult for females to gain the funds needed to start and grow their own businesses. As reported by the National Women's Business Council:
The average female business owner starts with half as much capital as male business owners;
Women receive 0.1% of venture capital financing, which is only 25% of what men receive. Only 15% of funded venture capital companies had at least one woman on their executive team;
Women are less likely to use business loans (5.5% of women vs. 11.4% of men) and more likely to use personal savings to begin a new business (30.3% vs. 19.5%, respectively).
Small Business Funding Options
In the face of these inequities, small business owners have several funding options. Each works in different ways and has various advantages and disadvantages:
Small business investors: These investors will take a percentage of equity in your business in exchange for capital. This approach to securing funding is ideal for individuals without expertise and strong credit histories, and it won't lead to the downsides associated with traditional business loans. However, it can dilute earnings in the long run and, in certain circumstances, cause owners to lose some control of business operations.
Venture capitalist firms: Venture capitalists firms seek high-risk, high-reward investments in the form of companies that have the potential to make massive returns in a short period of time, such as tech startups. The pros and cons of venture capitalists are largely the same as those outlined above. Those considering working with a venture capitalist must keep in mind that they will need an exit strategy to appeal to such investors; if you intend on running your startup in perpetuity, this route may not be for you.
Angel investors: Angel investors are individuals who invest in startup businesses in return for equity, much like venture capitalists. However, they are more prone to funding unproven business concepts and may provide expertise and networking opportunities. They generally have less funding available than venture capitalist firms and can be harder to find, but they can help struggling small businesses make dramatic turnarounds.
Community development finance institutions (CDFIs): CDFIs are private lending institutions interested in helping disadvantaged individuals who lack access to adequate financial services. Banks, credit unions, community development loan funds, and community development venture capital funds may be CDFI certified by the U.S. Department of the Treasury. Securing funding through a CDFI is a smart move, but you must be eligible to receive this help.
Partner financing: While sole proprietorships are the most straightforward method of business ownership, forming a business partnership is one route you can take to becoming an entrepreneur. This is a legal agreement between two or more individuals to jointly own and manage a business. The specifics of how decisions will be made and how profits will be split are determined in the partnership agreement. This will result in a loss of some control over business operations, but can be an effective way of bringing in additional expertise and funding.
Crowdfunding: If selling off equity is not an attractive option to you, consider the benefits of crowdfunding. Depending on the success of a crowdfunding campaign, prospective businesswomen can earn donations from hundreds to thousands of individuals interested in your ideas. On the downside, such a campaign requires careful planning, and fulfilling rewards-based promises can cut into your bottom line.
Peer-to-peer lending: You can find personal loans on peer-to-peer lending networks online. On these, borrowers are matched with lenders for a fast and convenient experience. Funding availability and terms can vary wildly, so it's important to review terms carefully. Individuals with poor credit may be unable to secure a loan with a decent interest rate, if they are able to qualify at all.
Business credit cards or lines of credit: Small business credit cards or lines of credit can give women flexible access to funding for business purposes. These operate much like consumer credit cards in that they can lead to interest charges for any balance left unpaid each billing cycle. Depending on your circumstances, securing one of these may require a personal guarantee, which can make you personally liable for any debt you accrue. This can be problematic for your credit score and future opportunities.
Small Business Grants and Loans for Women
There are also many small business grants and loans that are designed specifically for women. A grant is awarded to an individual or business based on meeting specific criteria. It does not have to be repaid, unlike a loan, which is offered by financial institutions or private lenders on a case-by-case basis.
There are many grants and loans you may be eligible for. In the list below, you'll find some examples of grants for female small business owners. Note that each has different requirements and stipulations to consider:
Industry-Specific Business Grants and Loans for Women
In addition to the resources listed above, there are further business grants and loans specific to women looking to make a difference in specific industries. These are designed to improve female representation in fields that have a severe lack of gender diversity in business leadership.
Again, each of these has different requirements and stipulations. Review the grants and loans below to see if any may help you in your entrepreneurial endeavors:
Scholarships for Women in Business
A solid education in business fundamentals is key to future success as an entrepreneur. This will provide you with the skills and know-how to develop a business plan, secure funding, and achieve consistent business growth. There are a wide variety of scholarships for women in business, including funding for both undergraduate and MBA programs.
Each scholarship has different application processes, requirements, and considerations that influence who receives it. Review the scholarships below to determine which you may qualify for:
Leadership and Management Resources for Women
For many entrepreneurs, leadership and management skills may not come naturally. While a strong intuition is an asset in the business world, learning the fundamentals ranging from building up clientele and creating a lead funnel to taking professional headshots and creating a compelling professional bio, is a vital step for any aspiring businesswoman. 
Leveraging training and marketing resources can help you learn how to envision achievable business goals and then manage the delivery of that vision. Ultimately, they can help you develop the skills needed to be a great business leader.
Training Resources
There are many resources designed to help female entrepreneurs learn more about the basics of business leadership and management. Explore the below training resources to learn more:
Marketing and Promotional Resources
In addition to the above resources, there are options for those looking to learn more about marketing as well. This is especially important because marketing is a vital aspect of business. It can build brand recognition and improve sales by helping you develop a consistent clientele. 
As a result, small businesses across a variety of industries have begun investing more time and resources into marketing, particularly when it comes to social media, digital advertising, email marketing, and search engine optimization. In order to keep abreast of best practices for each of these approaches, you should review the resources discussed below:
Networking for Women in Business
There are myriad benefits to networking. It can help you learn more about best practices in your industry from established entrepreneurs, earn increased referrals, and potentially acquire new business connections. Indeed, networking is perhaps the most proven method of achieving your business's full potential.
There are several approaches you can take to networking, including attending conferences specifically for businesswomen, getting your organization certified as a woman-owned business, or joining a professional organization.
Conferences for Businesswomen
Conferences can help you learn from experts in your field on a wide variety of business-related topics. They can give you the knowledge and motivation needed to get a competitive advantage as a prospective business leader. Below, you'll find some major examples designed for businesswomen:
Women-Owned Business Certification
Another step you can take as a female business owner is to get your organization certified as a women-owned business. Getting certified can increase opportunities for women by improving women-led organizations' visibility. Further, federal and state governments often seek to contract products and services specifically from women-owned businesses.
To qualify, your business must be owned primarily (at least 51%) by women who are U.S. citizens. Women must also control the management and daily business operations of the organization. Certification for women small businesses is overseen by the Small Business Association. You can find more details on the eligibility requirements and the application process on the program certification form.
Note that, in addition to this certification, there may be other national and local certification bodies to consider. The eligibility requirements and benefits of getting certified will vary for each, so it's important to do research to determine whether getting certified via these is a smart move for your business.
Professional Organizations for Women in Business
If you'd like to broaden your knowledge, network, give back to your community, and find new sources of motivation, joining a professional organization for women in business could be helpful to you. These organizations can help by offering networking opportunities, advocacy programs, mentors, and seminars on essential subjects for female entrepreneurs.
There are many such organizations, and each offers different benefits and services to consider:
At 4LegalLeads, we're committed to helping legal professionals grow their businesses. Leads are just one part of a successful legal business strategy, so our blog covers a wide range of topics.
We believe you deserve both quality legal leads and the knowledge you need to make the most of your investment. Explore our blog further to find the tools that help you succeed!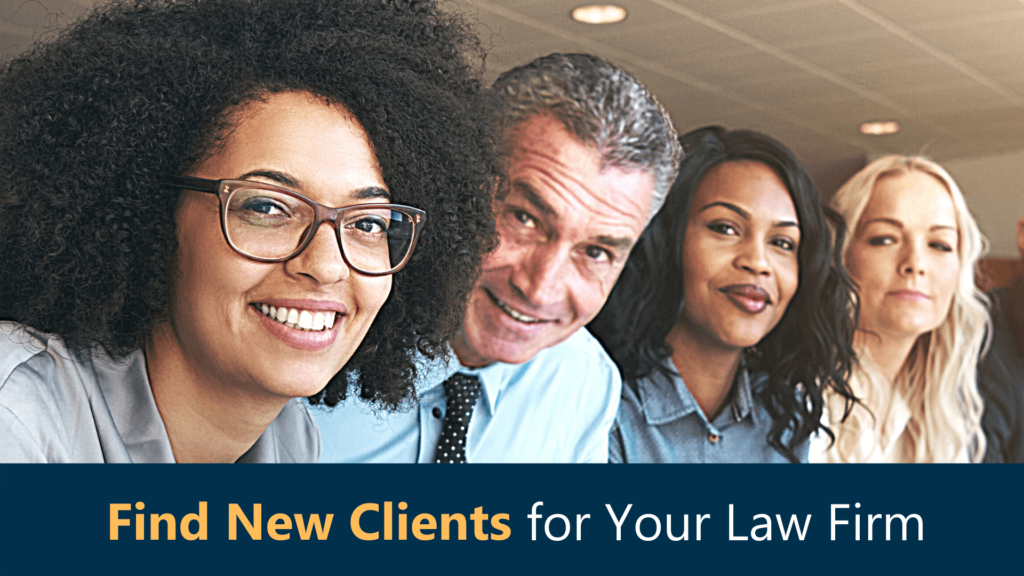 Law firms who need to Find New Clients are facing a big problem.
While nearly all potential clients are now searching online for an attorney, it's become increasingly difficult for law firms to stand out in search results.
Here's how Legal Leads help.
1) We use 20 years of online advertising expertise to make sure potential clients in your region can find your law firm. As they search for an attorney, we route them to you as a Legal Lead.
2) Legal Leads are EXCLUSIVE and delivered in REAL-TIME through the web or LIVE on the phone. This means you can respond to leads right in the moment they reach out for help. It's the best time to win them as a new client.
You only pay when you receive a lead. You can stop at any time, and you have an excellent customer support team to help you succeed!
CREATE YOUR ACCOUNT at 4legalleads.com/lawyers. It only takes a moment. Then, we'll be in touch to help you complete your setup so you can start finding new clients!